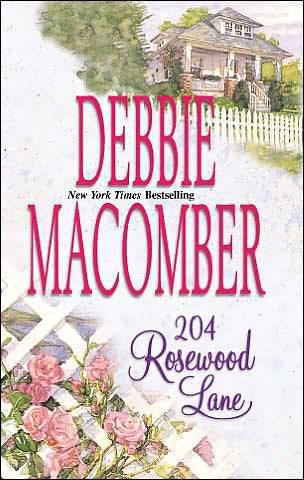 Grace Sherman is the main focus of this novel as she lives at 204 Rosewood Lane. Grace begins the novel talking about her worries with Dan Sherman who disappeared over six months ago. Grace believes that Dan is with another woman. Her daughter Kelly, who has always been close to Dan, refuses to believe that her father could do anything like that to her mother. Grace is in turmoil most of the novel over Dan, but she does manage to form a relationship with Cliff Harding (Tom's Harding's grandson). Their relationship is just beginning to form, but it looks promising. Grace's biggest drama moment comes at the end of the novel when the sheriff comes to her house. She jokes with him at first, but the sheriff remains serious as they go in the house. The sheriff proceeds to tell Grace that they found Dan's trailer and Dan's lifeless body. Dan had committed suicide and wrote a suicide note for Grace. He stated that nothing was her fault. He couldn't get over the guilt he felt over the war where he shot an innocent mother and child. Grace took the death hard as expected, but I think since she knows it isn't her fault she will eventually find peace and know what happened to Dan.
Mary Ellen Sherman (Grace's Daughter) has a bigger part in this book than the last. Mary Ellen works at an art gallery. She begins to tell us of John Bowmen an artist that always sells fast and isn't very chatty. A slow relationship forms between Mary Ellen and John. They sleep together and Mary Ellen finds herself pregnant. Mary Ellen is filled with guilt over her past abortion. She had been pregnant during her previous marriage to Clint. He forced her to get an abortion before they married and Mary Ellen has always been guilty over that decision. Mary Ellen decides to keep the pregnancy a secret and doesn't tell John about the pregnancy. When Mary Ellen is far enough along she attends the grand opening of The Lighthouse and that is where she learns John is the chef and John learns about Mary Ellen's pregnancy. John begins to talk to Mary Ellen about being involved in his daughter's life not so much a relationship with Mary Ellen. He makes it clear that he isn't going to be a dead beat dad and I appreciate that.
Olivia Lockhart's story is continued during 204 Rosewood Lane. This book tells less of Olivia's job as a judge and more about her relationship with Jack Griffin. They have a few rough spots, but through it all they want to be together. Then trouble brews when Stan is getting a divorce from his 2nd wife Marge and wants to get back together with Olivia. Jack and Olivia are split up at the end of the novel after Jack got mad at Olivia for feeling sorry for Stan and stormed out. Olivia and Grace continue to have a supportive friendship and spent much time together talking about their families. Olivia's son James, his wife Selina, and their daughter Isabella Delores come home for a visit during the novel. Olivia enjoys seeing her son. Olivia's mother Charlotte isn't as big of a character in this novel, but she is still as entertaining as ever. I do enjoy Olivia's story line no matter how brief it was.
Jack Griffin's son, Eric comes to live with Jack during this novel. Eric had leukemia as a kid and the doctor has declared that he can't have children. Eric becomes upset when his longtime girlfriend, Shelly, tells him she is pregnant. Eric believes the child is not his and leaves. He stays with Jack for several months and they get on each other's nerves quite a bit, but I believe it brought them closer as father and son. Later in Shelly's pregnancy Eric decides that even if the baby is not his he wants to be with Shelly. Ted and Todd were born and there wasn't a doubt in Eric's mind that the babies' ,that's right Shelly had twins, were his. Olivia later marries the couple in the park with Jack holding Ted and Todd. Olivia reminisces about Jordan with a bit of melancholy.
Justine the woman who never wanted to be married finds herself married at the end of novel one to Seth Gunderson and pregnant with his baby soon after. Justine quits her job at the bank and Seth quit his job at the Marina where he fished. They buy the old Captain's Gally where Celcia Radall works and rename it The Lighthouse it is a big hit. At the very end of the novel Justine is truly radiant as she welcomes her son Leif Jordan. I really enjoy Justine's storyline.
The most curious thing that happened during the novel was at Peggy and Bob Beldon's (Jack's AA counselor) bed and breakfast. A strange man showed up and refused to fill out any of the identification paperwork. They knocked on his bedroom door in the morning to find the guy had died in the night. Even worse he was carrying fake ID so they have no idea who he is.
The new character introduced in this novel is Zach Cox who is married to Rosemary (Rosie). They have two children Allison and Edward (Eddie). Zach and Rosemary have a troubled marriage throughout the novel. Zach believes that Rosie takes on too much volunteer work and nelects the family by not making dinner every night. Eventually Rosie gets sick of Zach's attitude and files for divorce. Their joint custody trial is to be with judge Olivia Lockhart. They both claim that they want want is best for the children and Olivia puts them to the test. The children will not have to move every few days from their home on 311 Pelican Court the parents will have to move in and out of the house. Now this is an interesting decision that I'm sure will be played out more in the 3rd novel 311 Pelican Court.
Thanks for reading. I will be reading the next book soon.
Rachael